How is your summer going? I've just returned from a week of family vacation. This trip in particular seemed to really highlight how a regular yoga practice has enriched my life. It was like life held up the mirror to show me what being in yoga feels like and to let me watch back different parts of my journey. Here are a few takeaways from this vacay:

– It made me appreciate once again the importance of pausing regularly – before I'm tired and worn, while I'm down and out, and when I'm soaking in the abundance of this precious life. Watching/being in the pauses that follow each in breath and out breath feels like an accessible place to start when life is extra complicated.
– Being with my dear ones, I saw so very clearly the importance of safe relationships within which I can refine my relationship to myself and how I show up in relationships with others. Establishing a relationship with myself that does not deny any part of me is one of the greatest gifts of my yoga practice and has become a cornerstone of my teaching. I believe wholeheartedly that doing the work to know and embrace ourselves has a propitious ripple effect as we move through our lives. If you'd like to remove some of the barriers to being with yourself or others, please schedule a check-in-chat with me.
– Nature continues to be a fierce and gracious teacher. Gazing at the space where the ocean seems to meet the sky, I appreciate the smallness of my individuated self and the vastness of my interconnection to the whole. There are steps I can take to be a better steward of this Earthly home.
Alright my friends, some rather random musings in this one but perhaps some inspiration for you somewhere herein! Take a look below for a recording that will allow you to "practice the pause" and let me know what you notice about your experience with it.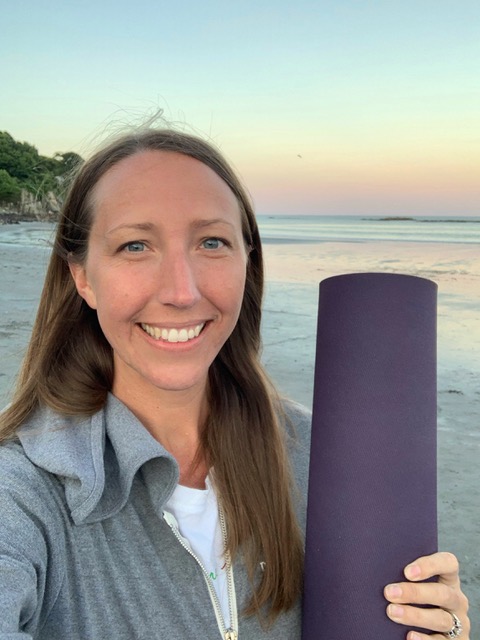 Meghan Hogan, E-RYT 500, CCC-SLP is Lead Faculty for the Yoga Vidya Teacher Training and In-Depth Studies program, a Speech-Language Pathologist supporting preschool children with disabilities and their families, a wife and mother.
Her mission in sharing yoga is to provide caregivers of all walks of life tools for self-care and stress management.