Virtual classes offered weekly through Zoom.
Monday 9-10am Morning Movement and Meditation (Lilananda Yoga Virtual Studio)
Monday and Thursday 4-5pm All-Levels Hatha Yoga (Heartspace Yoga Virtual Studio) 
Custom sessions tailored to your specific needs. A great way to start your journey or overcome a plateau in your practice.
Meghan Hogan, E-RYT 200, RYT 500
Meghan is an experienced registered yoga teacher based in the New York State Capital Region. 
Genuine, clear, steady-Meghan brings forth attributes cultivated through dedicated personal practice into her teaching.  Her students are empowered through compassionate individualized guidance to access and use the tools they innately possess to breathe fully, rest deeply, and move freely toward a joyful experience of Self.   Meghan's mission is to guide people home to their own hearts, trusting that cultivating this inner relationship fosters uplifted connections in homes and communities.
A perpetual student, Meghan is ever-grateful to her Teacher, Lauren Toolin, with whom she completed her 200hr and  340+hour teacher training programs.  Meghan has had the unique opportunity to serve as Teaching Assistant for Yoga Vidya's 200-hour yoga teacher training (YTT) program since 2014 and she launched her first satellite YTT as Lead Faculty of the school in 2016. 
A decade of experience in the field of Speech-Language Pathology contributes to Meghan's ability to see each student through a holistic lens and respond to their unique presentation.  Meghan's appreciation for communication is reflected in her offerings through her observant nature and respectful transmission of the teachings of yoga.
Meghan offers public classes, private sessions, workshops and 200hr teacher training. 
If you are searching for the sanctuary of yoga as a spiritual practice given by the gentle spirit and wisdom of a gifted practitioner, you will find it with Meghan.
It's a continual honor to take my seat in her class.
I had always thought of yoga as a 'stretching class' with 'a bit of strength stuff.' With her patience, kindness, and deep knowledge, Meghan inspired me to learn more about yoga, meditation, breathing…all of it.
I first met Meghan in 2014 when she was assisting a Yoga Vidya 200 teacher training. Her calm, reassuring presence, clear, direct teaching style drew me in. Since then, I have attended several of her workshops and I am always left deeply satisfied. Her integrity and knowledge of Yoga is paired with humor and love, love, love.
Meghan is the true embodiment of a yogi. She's a skilled, exacting and compassionate teacher. Meghan also exudes such calm, centeredness and kindness personally and through her teaching. What a wonderful combination both on and off the mat!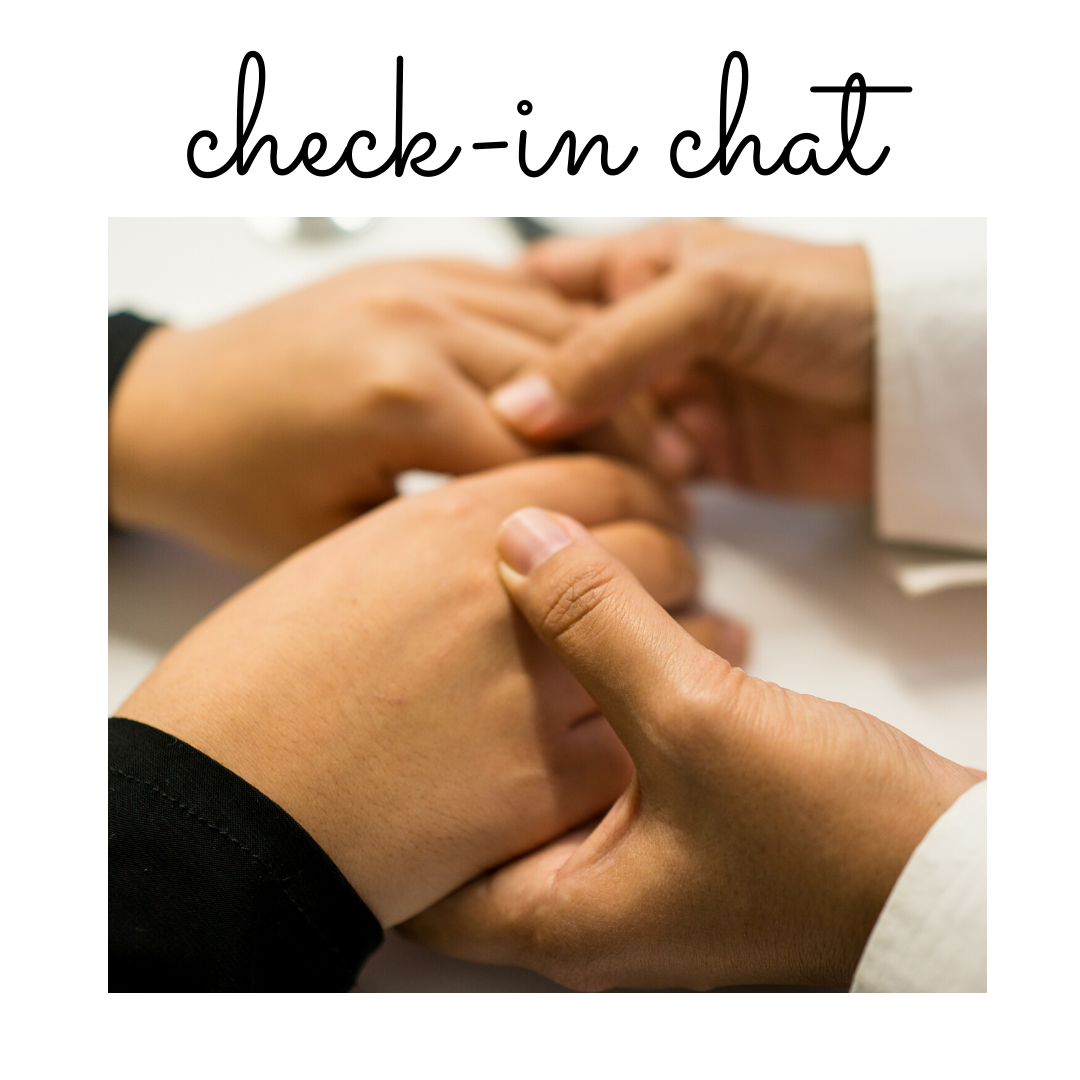 From heart to heart 
From wherever you are

Even helpers need help sometimes! 
Wearing one too many hats these days?
Need accountability to put the skills you have to use? 
Seeking tools for stress management or restful sleep? 
Ready to replenish your reserves? 
Meghan is here to hear and support you. Schedule an individual Zoom call by clicking the link below.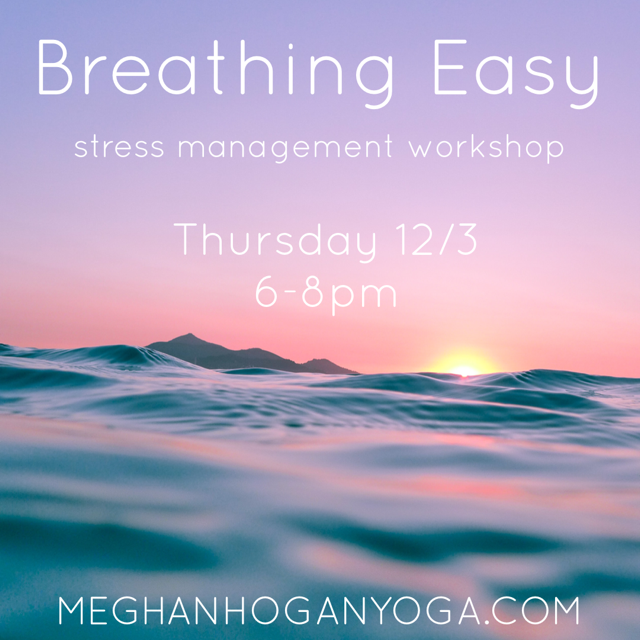 Breathing Easy
A Stress Management Workshop



Thursday December 3rd
6-8pm
Live Via Zoom
How we breathe affects how we move, think, and feel.  Through breath awareness and specific breathing techniques, we can both prepare to meet intensity and embrace the challenges that accompany growth as well as create the conditions for greater mental and physical ease.
Topics include:
-Appreciating the stress response
-Experiencing the relaxation response
-Co-regulation
-Self Care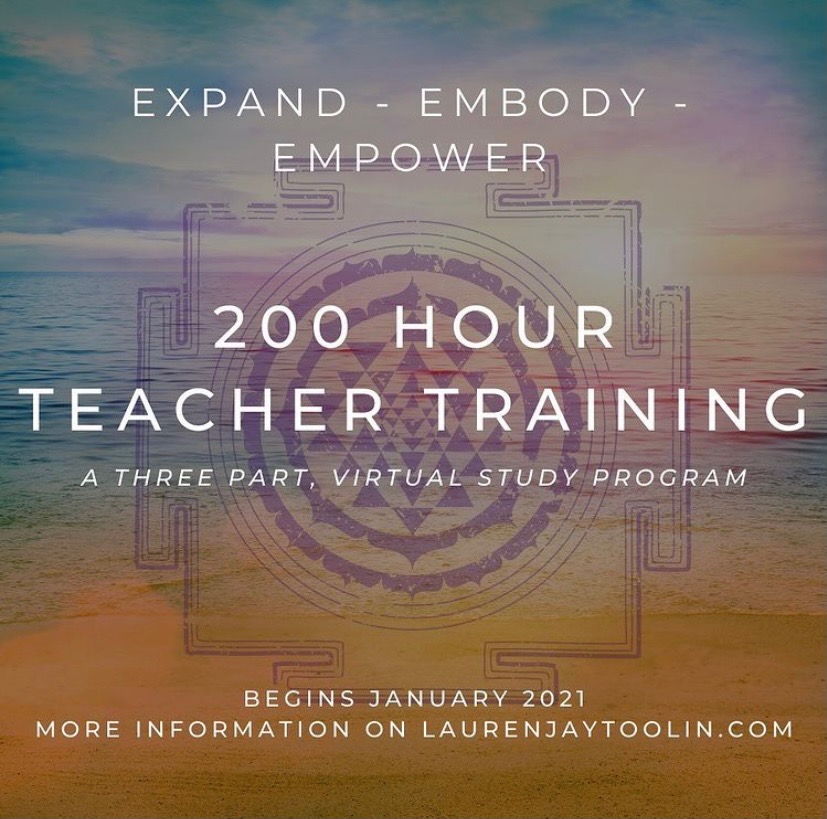 Yoga Vidya School Info Session
Free Yoga Class!

Saturday December 12th 
9-10:30am
Live Via Zoom
In it's newest evolution, the 200hr yoga teacher training and in-depth studies program goes virtual! This in-depth studies program begins Jan 9, 2021! Are you ready!?
Join us for the final free class and info session of 2020 and see how this online course and community could be a welcome place to land this winter!
We'll offer you a sample class, a walk through a typical day of training, and time to get to know our faculty and approach. We look forward to hearing your aspirations and curiosities! 
Click below to email Meghan to receive your invitation!